How to drive safely in high winds.
It's November! With October gone, along with most of the leaves in Eastern Iowa, it's definitely autumn. Every season provides specific driving challenges for drivers, and fall is no exception. With what seem like cozy blustery days and a cause for hot chocolate come the dangers of driving in high winds. This is a danger all year round, but autumn tends to have an exceptional amount of extra debris, farming equipment, and silly drivers on the road. Therefore, we felt the need to put together a guide to safe driving on blustery days.

1. Keep a personal bubble
Use caution when following and passing vehicles with a trailer attached. Those trailers have no way of being controlled in high winds, and could sway at any moment. Be sure to keep plenty of distance between yourself and the free moving trailer whether it is in front of your vehicle or beside you.
Also, be aware of larger vehicles around you. The larger the vehicle, the taller the vehicle and this there is more surface area for the wind to blow into. This can cause difficulty for larger vehicles to stay in their lanes and creates a higher potential for tipping in strong winds.
2. Visibility is crucial
Use your headlights. It may seem silly, but high winds or spontaneous wind gusts can cause all sorts of visibility problems for drivers. Your lights make you easier to see, keeping you and the other vehicles on the road aware of the moving cars around them.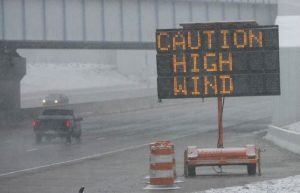 Keep an extra eye out for debris. We all know, especially living in Iowa, how one strong gust of wind can take down a tree or blow around long settled dirt in a way that is inconvenient for drivers. Winds can carry trash, dust, leaves, and heavier objects through what seems like space and time, to get in your way while driving. Just be extra aware for these things and how they might affect you or the vehicles around you.
3. Don't speed
Avoid speeding. Wind affects the speed at which your vehicle travels, believe it or not, like a sail boat. When changing lanes, turning, or even just swerving the slightest bit, a powerful wind gust can accelerate and increase your movement with no warning. This leads to a small window for correction, or over correction, which is also dangerous at high speeds.

4. Be prepared
Anticipate winds. Check the weather before driving and be extra cautious in wind prone areas.
Make sure to keep a firm grip on the wheel. Anticipating all the gusts in the world won't do you any good unless you are in control of your vehicle. Use both hands in a position that allows strong movement in case you suddenly need to counteract a gust of wind.
Keep an emergency pack in the car containing extra clothes and hand warmers. If you get into an accident on a blustery day, it's going to be chilly.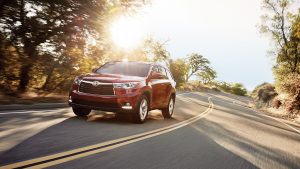 Finally, if it's so windy it's dangerous, just stay off the roads. Be sure to park away from trees and power lines in case they blow over.
So that's it! A comprehensive guide to driving on beautiful, blustery fall days. Keep up with Cedar Rapids Toyota on social media through the seasons and be sure to check out the rotating stock on our website! Perhaps there's a vehicle with all wheel drive on the horizon as you prepare for the winter months.