The Platinum Throne Of Crossovers
The best of the sporty, luxury, and space oriented vehicles in the crossover and SUV line-up of Toyotas is the 2017 Toyota RAV4 Platinum. With features not found in every RAV4 or SUV offered by Toyota, this model is special and it could be yours today.
Appearance
The 2017 Toyota RAV4 Platinum has several aesthetic appeals, like it's newly designed, 18 inch, 5 spoke, super-chrome alloy wheels. It also features a unique S-code paint treatment that adds silver painted accents to the bumpers, fenders, and side trim. The RAV4 Platinum also comes with platinum doorsill protectors. The devil is in the details with this model, and the details are what make the 2017 Toyota RAV4 Platinum unique.
Interior Technology
The technology that comes with the Toyota RAV4 Platinum is top of the line. This model features the new Homelink review mirror without a frame for a wider range of sight. In addition to the app suite, navigation, and optional Entune that comes with all RAV4's, the 2017 Toyota RAV4 Platinum comes with Siri Eyes Free. Siri Eyes Free is a new program that allows you to use voice recognition from your connected iPhone to send messages, listen to music, and take calls, all from a button on your steering wheel. It's just one of the many steps Toyota is taking for safer driving on the roads.
Exterior Technology
That's not all though! The external technology is just as exciting as the interior. The 2017 Toyota RAV4 Platinum features a blind spot monitor on the external side mirrors, as well as a heating system to combat snow and ice from over taking the mirrors. Also, in addition to the backup camera featured on all 2017 RAV4's, the 2017 RAV4 Platinum features front and rear parking sonar, a bird's eye view cam, and Toyota Safety Sense.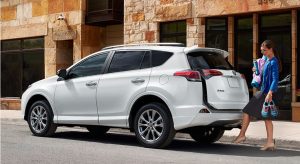 The biggest external improvement, though, is the hands-free, foot-powered automatic lift-gate. No more struggling to open your trunk with the 2017 Toyota RAV4. You can just activate it with your foot and place whatever you might be holding inside. Then push the button or close it with your foot and you're on your way! To round it all out, the RAV4 Platinum also comes with the 5 door SmartKey System that allows you to open doors without pulling out the key.
So there you have it; the best of the best when it comes to the 2017 Toyota RAV4. The 2017 RAV4 Platinum has all of the features you could ever want in a crossover vehicle with an affordable price point. Starting at only $34,750, this high end Toyota RAV4 could be yours today. See what RAV4's we have in stock on our website and follow us on social media to keep up with our new dealership!